RNA干渉を担う2種類のダイサー(DCL3, DCL4)活性の簡便な検出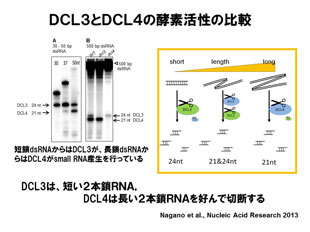 メンバー: 福原敏行
分野: 生物科学、基礎生物学、境界農学
所属: 農学研究院
キーワード: RNA干渉、ダイサー、2本鎖RNA、小分子RNA、RNA interference、Dicer、double-stranded RNA、small RNA、DCL3、DCL4
ウェブサイト:
研究概要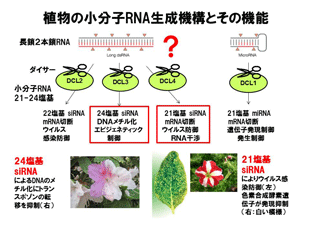 RNA干渉(RNAサイレンシング)は、ウイルス等の病原体や環境ストレスからの生体防御、トランスポゾン等の転移抑制によるゲノムの安定性、発生制御など種々の重要な生体反応に関与する機構である。このRNA干渉を担う小分子RNAを生成する酵素ダイサー(植物ではDCLと呼ばれる)は、RNA干渉機構のかなでも最も重要な酵素の一つである。植物では、DCL3が24塩基の小分子RNAを生成しDNAのメチル化を介してゲノムDNAの安定化を担い、DCL4が21塩基の小分子RNAの生成しウイルス感染防御を担っていることが知られている。本研究室では、この2種類のダイサー(DCL3, DCL4)の活性を少量の植物組織から簡便に検出する手法を開発した。この方法を用いることで、植物体や組織のRNA干渉能を簡便に検出し、その植物体のトランスポゾンやウイルスに対する耐性能を評価することができる。
主要論文・参考事項
1. Nagano H., Fukudome A., Hiraguri A., Moriyama H. and *Fukuhara T. Distinct substrate specificities of Arabidopsis DCL3 and DCL4. Nucleic Acid Research 42: 1845-1856 (2014).
2. Fukudome A., Kanaya A., Egami M., Nakazawa Y., Hiraguri A., Moriyama H. and *Fukuhara T. Specific requirement of DRB4, a dsRNA-binding protein, for the in vitro dsRNA-cleaving activity of Arabidopsis Dicer-like 4. RNA 17: 750-760 (2011).
3. *Fukuhara T., Urayama S., Okada R., Kiyota E. and Moriyama H. Detection of long and short double-stranded RNAs. In Hiroaki Kodama and Atsushi Komamine (eds) "Methods in Molecular Biology 744: RNAi and Plant Gene Function Analysis" Humana Press, pp129-144 (2011).
4. Nakazawa Y., Hiraguri A., Moriyama H. and *Fukuhara T. The dsRNA-binding protein DRB4 interacts with the Dicer-like protein DCL4 in vivo and functions in the trans-acting siRNA pathway. Plant Molecular Biology 63: 777-785 (2007).
5. Hiraguri A., Itoh R., Kondo N., Nomura Y., Aizawa D., Murai Y., Koiwa H., Seki M
お問い合わせ先
東京農工大学・先端産学連携研究推進センター
urac[at]ml.tuat.ac.jp([at]を@に変換してください)
A simple method for detecting two dicer, DCL3 and DCL4, activities involved in RNA interference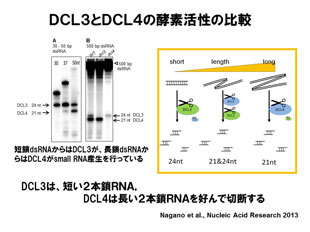 Research members: Toshiyuki Fukuhara PhD.
Research fields: Biological Science, Basic biology, Boundary agriculture
Departments: Institute of Agriculture
Keywords: RNA interference, Dicer, double-stranded RNA, small RNA, DCL3, DCL4
Web site:
Summary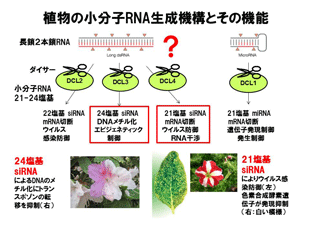 RNA interference (RNA silencing) is a crucial mechanism for important biological processes, such as defense against virus infections, genome stability to suppress transposon movement and development. Dicer (DCL in plants) is an important enzyme because it produces small RNAs that are responsible for RNA interference. In plants DCL3 produces 24 nucleotide (nt) small RNAs, which are responsible for genome stability via DNA methylation, and DCL4 produces 21 nt small RNAs, which are involved in defense against virus infection. A simple method for detecting two dicer, DCL3 and DCL4, activities from small amounts of plant tissues is developed in our laboratory. By using this method we can simply detect the ability of RNA interference in plants and evaluate their tolerance against nucleic acid parasites, transposons and viruses.
Reference articles and patents
1. Nagano H., Fukudome A., Hiraguri A., Moriyama H. and *Fukuhara T. Distinct substrate specificities of Arabidopsis DCL3 and DCL4. Nucleic Acid Research 42: 1845-1856 (2014).
2. Fukudome A., Kanaya A., Egami M., Nakazawa Y., Hiraguri A., Moriyama H. and *Fukuhara T. Specific requirement of DRB4, a dsRNA-binding protein, for the in vitro dsRNA-cleaving activity of Arabidopsis Dicer-like 4. RNA 17: 750-760 (2011).
3. *Fukuhara T., Urayama S., Okada R., Kiyota E. and Moriyama H. Detection of long and short double-stranded RNAs. In Hiroaki Kodama and Atsushi Komamine (eds) "Methods in Molecular Biology 744: RNAi and Plant Gene Function Analysis" Humana Press, pp129-144 (2011).
4. Nakazawa Y., Hiraguri A., Moriyama H. and *Fukuhara T. The dsRNA-binding protein DRB4 interacts with the Dicer-like protein DCL4 in vivo and functions in the trans-acting siRNA pathway. Plant Molecular Biology 63: 777-785 (2007).
5. Hiraguri A., Itoh R., Kondo N., Nomura Y., Aizawa D., Murai Y., Koiwa H., Seki M
Contact
University Research Administration Center(URAC),
Tokyo University of Agriculture and Technology
urac[at]ml.tuat.ac.jp
(Please replace [at] with @.)